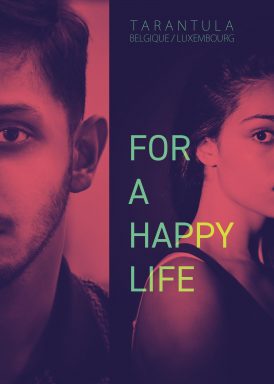 For a happy life
A film by Dimitri Linder et Salima Glamine, 2017
-
Genre: Drama
Langues: French & Ourdou
Subtitles: French
Format: xxx
Sound: xxx
Duration: xxx
Countries: Belgium, Luxembourg, France
Year: 2017
SYNOPSIS
-
Sarah is a 17 girl of Algerian origin. For several months, she's been having a secret relationship
with Mashir Fahrad, a 22-year-old Pakistani. But will this love be strong enough to bare the weight of their respective cultures ?
CREDITS
-
Directors: Dimitri Linder et Salima Glamine
Screenplay: Dimitri Linder et Salima Glamine
Image: Joachim Philippe
Sound: Marc Thill
Decors: Laurie Colson
Costumes: Magdalena Labuz
Make-up: Claudine Moureaud
Editing: Mathieu Toulemonde
Cast:  Pascal Elbé, Sofia Lesaffre, Zeerak Christopher, Atiya Rashid, Arsha Iqbal, Etienne Halsdorf, Javed Khan, Naheed Mirza, Lubna Farooq
Produced by Joseph Rouschop, Valérie Bournonville (Tarantula Belgique) and Donato Rotunno, Elise André (Tarantula Luxembourg)
DIRECTOR
-
After having successfully explored acting, Dimitri Linder became a stage manager for Benoît Mariage, Costa Gavras and Catherine Corsini. Very quickly, he collaborates with directors such as Bouli Lanners and Joachim Lafosse as an assistant director. In 2012, he directs «After 3 minutes», his first short film, co-written with Salima Glamine.
With her acting background, Salima Glamine performed in feature films such as «Fragile» by Valentin and «Ma place au soleil» by Éric de Montalier, but also in television feature films including «Tata Bakhta» by Merzak Allouache.