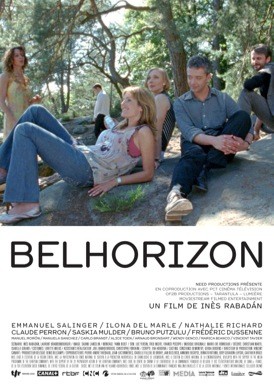 Belhorizon
A film by Inès Rabadan, 2004
-
Genre: Comedy / Drama
Languages: French
Format: 1.85
Sound: Dolby DTS
Running time: 80 min
Countries: Belgium, France, Luxembourg
Year: 2004
SYNOPSIS
-
Carl and his friends decide to buy a luxury hotel. While scouting out "Belhorizon", Carl discovers that the hotel is actually a humble boarding house run by a couple of Spanish immigrants. This absurd place annoys Carl at first, but he finally lets go when he considers the decline of his father's fortune. He catches the glance of couple's girl, Esmé, and gets close to her… Then Simon, Anabelle, Henri, Isabelle and Lucy show up. They're his friends. They're his peers. They're young rich people on holiday out to make trouble. Within one day and one night, just enough time to imagine a possible future between Carl and Esmé, social classes rub against each other and ignite sparks in this allusion to "The Discreet Charm of the Bourgeoisie".
CREDITS
-
Director & screenplay: Inès Rabadán
Photographer: Sabine Lancelin
Editor: Yann Dedet
Sound: Yves Yersin
Music: Marie-Eve Ronveaux
Cast:
Carl : Emmanuel Salinger
Isabelle : Nathalie Richard
Henri : Bruno Putzulu
Annabelle : Claude Perron
Lucy : Saskia Mulder
Produced by Need Productions, Tarantula, PCT Cinéma Télévision, OF2B Productions, Lumière, Moviestream Filmed Entertainment.
Internationales sales : Celluloïd Dreams
FESTIVALS
-
29ème Festival des Films du Monde, Montréal, Qc (Canada)

20ème Festival International du Film francophone de Namur (Belgique)

Quinzaine du cinéma Francophone à Paris (France)

Festival International du Film de Mannheim-Heideberg (Allemagne)

Festival International des films de femmes à Créteil (France)

Festival Internacional de Cine Independiente de Buenos Aires

Festival du film de l'Union Européenne à Ottawa

Festival du film de l'Union Européenne à Vancouver

Festival Internacional de Cine à Santiago de Chile

8ème Muestra Internacional de Cine de Santo Domingo
DIRECTOR
-
Born in Belgium in 1967, she first gratuated from the Faculty of Philosophy and Letters of the University of Brussels, then from the Belgian Film school IAD where she meets Denis Delcampe who becomes her producer. Director of several short films and videos («Vacance», «Surveiller les Tortues», «Maintenant», «Si j'avais dix doigts», «Le jour du soleil»), she occasionally leads workshops of script writing and editing for young directors or feminist festivals.
«Belhorizon» is her first feature film.
PRESS REVIEWS
-
"An exceptionnal feature debut by Belgian director Inès Rabadan. Strained romantic relationship and power games unfold in an elegant atmosphere of magic realism. An all around strong cast and beautiful cinematography."
The Bulletin