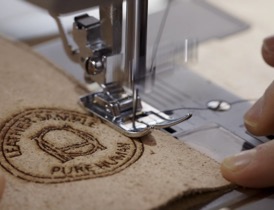 Fashion Geek at MUDAM – screening of the fashion documentary web-series
-
5 episodes of the documentary web-series by Sidonie Garnier and Maryan Goormaghtigh, coproduced by Tarantula Luxembourg, a_BAHN France and Arte France, dedicated to the future of fashion and clothing will be screening at MUDAM Luxembourg, in attendance of Sidonie Garnier and Tina Gorjanc Sunday 8th of October 2017 at 3PM.
Connected clothes, 3D printed or created from microorganisms, the future of fashion is being invented nowadays and reflects the big changes occuring in our societies. Whilst new technologies are involved at every stage of creation to get to the core of fabric, the globalization of production is getting strongly criticised, forcing the fashion industry to rethink the production process. With the help of creators who are making and inventing the future of fashion, Fashion Geek, a documentary web-series, explores the new work in synergy in between fashion and technology, questionning the visions of the future these are showing.
Other episodes will be screening the day before, at the Lux Fashion Week in Arlon (Belgium), more info
here.